The power supply is critically important to turntable performance. Low noise, both mechanical and electromagnetic, from the motor is essential.
It will be no surprise that the speed accuracy of a record player is critical for optimum audio quality under any load conditions encountered during the playing of an album. Stable and accurate speed ensures pitch accurate reproduction of the record. From the Valhalla in the early days to the Radikal now, Linn power supplies ensure your LP12 goes round at the correct speed!

Linn Radikal 2 Klimax Enclosure Power Supply
Radikal is the highest performance motor control and power supply available for the Sondek LP12 turntable and comes complete with a brushed DC motor that replaces the standard LP12 AC motor. Radikal also powers the Urika internal phono stage for the LP12, where fitted.
Radikal brings together several breakthrough technologies that enable a completely new and innovative approach to motor control in the LP12, significantly improving its performance. To ensure perfect timing, Radikal's speed management system auto-calibrates the motor every time the Sondek LP12 is powered on.
With radically reduced electromagnetic noise levels, the precious-metal brushed DC motor delivers a huge improvement in signal-to-noise ratio, getting you even closer to the music.
Due to the unique design of both Radikal and the Urika phono stage, Radikal can be used on its own simply to power and control the motor, or in tandem with Urika, for a doubly impressive upgrade.
Radikal is available in a Klimax chassis shown here to the left machined from solid aluminium, or Linn's standard Akurate-style chassis shown below so you can match it to your Linn system.
Linn Radikal 2 Akurate Enclosure Power Supply
Same as above but enclosed in Linn's more affordable enclosure.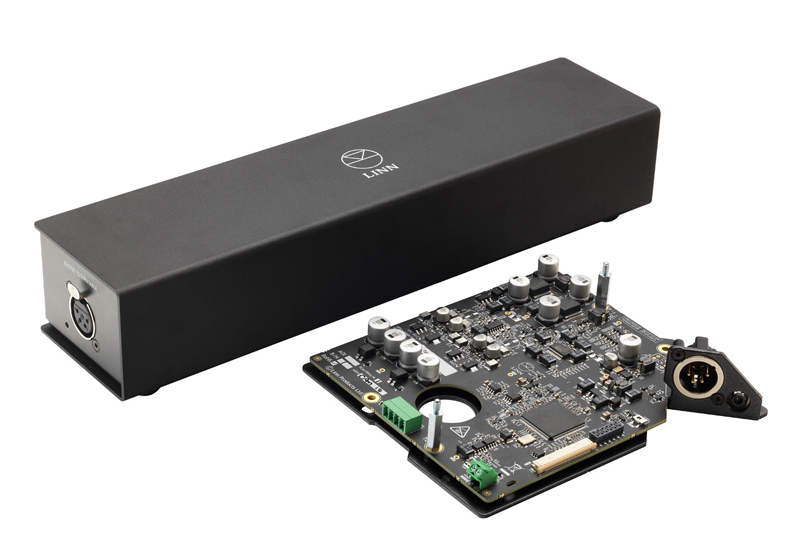 Linn Lingo IV Power Supply
Lingo has received a major upgrade to deliver even better sound from your vinyl, thanks to the addition of ground-breaking technology derived from the extraordinary Radikal power supply.
New Lingo incorporates a motor speed management system and uses digital processing technology to make the platter spin more accurately and more consistently. What's more, it auto-calibrates the motor when the Sondek LP12 is powered on to ensure this accuracy and consistency every time. That's crucial for music, of course: even the slightest speed variation affects the pitch, and a turntable that isn't accurate is like a musical instrument that hasn't been tuned properly.
With on-board circuitry that fits inside the deck and a new external slimline power supply which can be easily concealed, the new model is neater, more compact and cleverer than ever.
The source of the audio source, Lingo is the first improvement to make to your LP12, providing a clear upgrade from the internal Majik power supply and previous Lingo models.
Linn Majik Internal Power Supply
The Majik LP12 Power Supply is a neat and reliable motor control solution which fits inside the Sondek LP12 supplying consistent, low-noise power.
To guarantee high quality audio performance from your turntable, this power supply filters extraneous mains noise, reducing judder in the motor for stability of speed.
As a great starting point for any LP12 set-up, the Majik LP12 Power Supply turns the platter at a constant 33.3 rpm. Speed can be changed using the optional 45 rpm adapter.