Linn speakers think differently
Intelligent, upgradeable and built to the highest standards, Linn speakers don't follow the conventional path. Choose the elegance of an integrated speaker with amps and Exakt technology hidden on board, or start passive and upgrade using separates to the ultimate in performance.
50 Years of Innovation
The loudspeaker is the final part of the hi-fi chain, and also where information can be lost or distorted through the speaker's crossover, cabinet and drive units. Linn has innovated in all three areas ever since the introduction of their first Aktiv speaker, the Isobarik PMS over 40 years ago. Find out more about what makes a Linn speaker uniquely able to deliver every note faithfully to your ears.
Linn created a whole new category of speaker with their built-in Exakt technology and integrated Aktiv amplification. Turning the loudspeaker into an intelligent, connected, software-upgradeable product, means you can enjoy precise, powerful sound from a compact, neat and beautifully styled package that can be optimised for your unique home environment. It's integration without compromise.
Linn Passive loudspeakers offer the perfect starting place on your journey towards better sound. Hand-built by master craftsmen using innovative in-house designs and the finest components, every Passive Linn speaker performs exceptionally straight out of the box. And with the freedom and flexibility to add the external amplification you want, you can take steps towards the ultimate upgrade of Exakt.
Linn 360 - 360 Exakt Integrated
360 is audibly invisible.
It produces a performance with unprecedented clarity and realism, that's entirely absent of sonic colouration. Incorporating innovative drive unit and amplifier technologies, 360 turns out our lowest ever levels of audible distortion.
The honed curves of its cabinet are partnered with meticulously matched drive units to deliver the cleanest possible dispersion characteristics.
All that is experienced with 360 is sound-stage; with vocals suspended in space, and true-to-life scale and depth leaving you utterly devoid of the sense you are listening to a pair of stereo speakers.
360 is visibly remarkable - its curvaceous cabinet, intricately machined trim, and range of dynamic finishes combine to present an overall aesthetic that is familiar, yet with ultra-modern flair and contemporary class.
Audibly Invisible. Visibly Remarkable.
Read more about 360 here
Linn Akubarik Integrated - with KATALYST DAC
Linn's design team had a clear goal in mind for the design of Akubarik: to take the elegance, precision and performance of our flagship range, and package it into a more compact enclosure, suitable for any size of room.
The simplicity of the design brief is reflected in the refinement of the curved cabinet, but look beneath the surface and you'll discover just how much proprietary Linn technology has been packed into this unique speaker to produce its outstanding performance characteristics.
Fed by a single network cable from any Exakt-compatible Linn DSM player, the on-board Exakt digital crossover in each speaker delivers five independently controlled channels, each with its own dedicated volume control, Katalyst DAC and power amplifier.
The Linn 3K driver array then delivers fantastically clear mid- and high-frequencies throughout your room, while an integrated Isobarik bass system delivers power and musicality in the lowest frequencies negating the need for an overall larger speaker or separate subwoofers.
Akubarik will reignite your passion for music with startling clarity, impeccable timing and impactful bass that belies its medium size.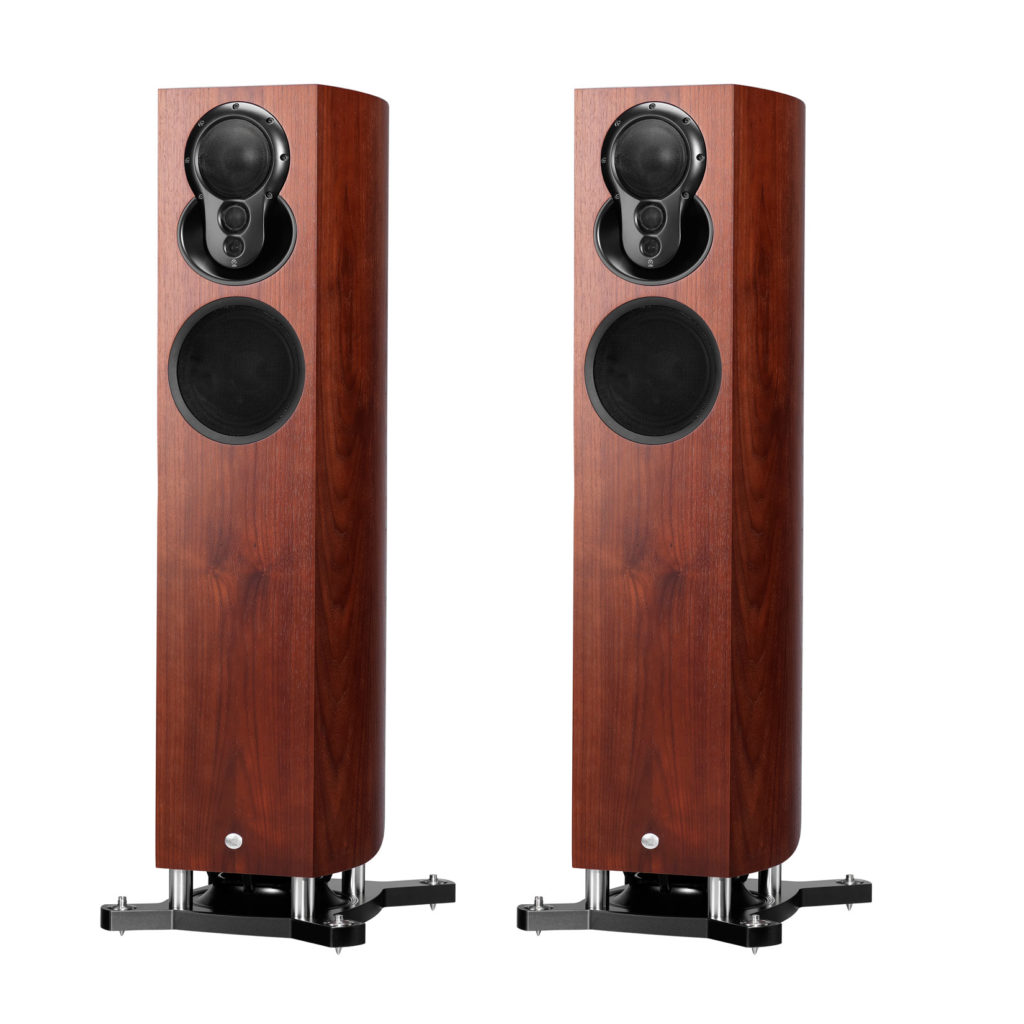 Linn Series 5 speakers turn conventional speaker design on its head. Not only do they outperform every other speaker of this size, but every one can be customised to match your decor or make a bold design statement. However you choose to personalise the look, Linn have made sure the music will always take centre stage.
Featuring Linn Fabrik, every speaker can be uniquely tailored to your taste. And with Linn's ground-breaking Exakt technology on board, you will always hear a performance that's optimised for you and your home.
Linn Series 520 - Compact and customisable....
Enjoy all the musicality and finesse of an integrated Linn speaker packed with technology, in our most compact design yet. Designed to be personalised for you and your home, the size and styling are subtle but the performance will stand out.
Customise the look and place them where they fit best in your room; Space Optimisation+ takes care of optimising the sound for your room's characteristics and chosen speaker location.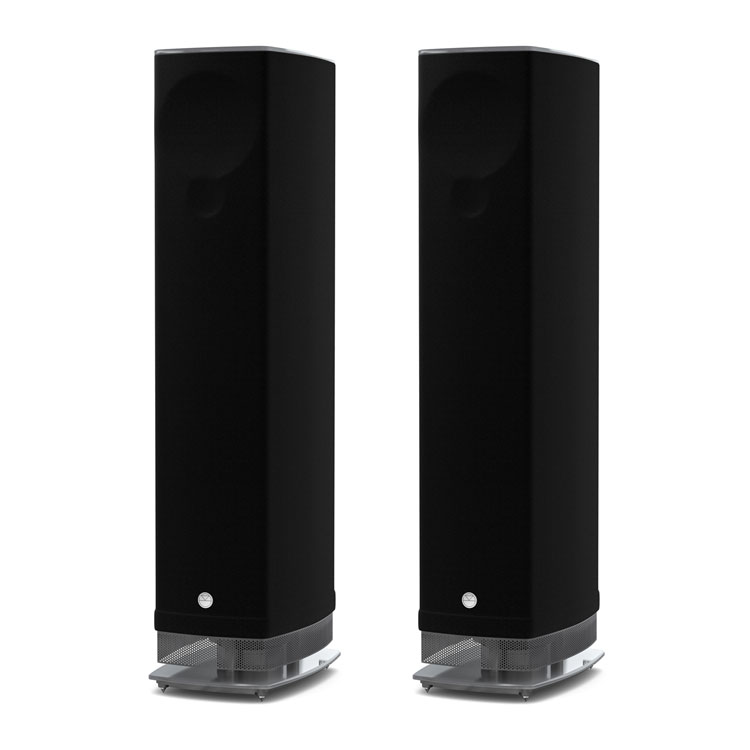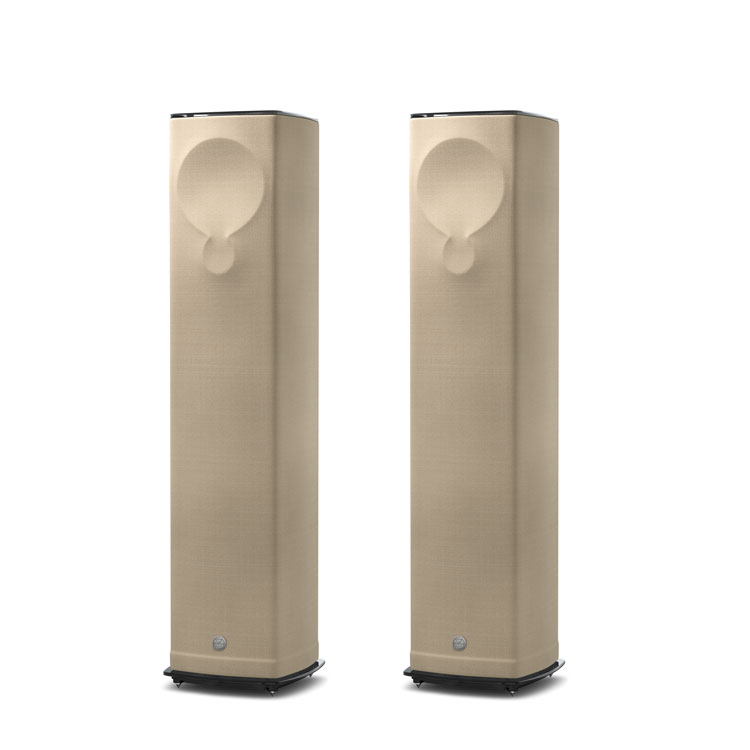 Linn Series 530 - Exquisite tailoring and powerful sound....
From crisp, clean highs all the way down to the deepest bass, the 530 lets you experience incredible musical accuracy with an energy that really lets the music flow.
Underneath that stylish exterior is a speaker packed with technology. The 530 integrates Exakt electronics, 300 W of power amps and an incredible Isobarik bass system; not that you'd know it from the elegant curves and discreet size.
Customise the look and place them where they fit best in your room; Space Optimisation+ takes care of optimising the sound for your room's characteristics and chosen speaker location.
Choose from Linn's range of Majik speakers and take your first step into serious hifi. With the power and precision to handle anything you throw at them, Linn Majik speakers offer a choice of sizes and performance levels to match all your needs; build your perfect stereo system or create a full surround sound set-up.
Featuring Linn's 2K Driver Array technology, derived from the flagship Klimax range, every Majik speaker will fill your home with great sound. And with a whole range of upgrade options, Majik is an investment for the future. Surprise yourself with details of the music you've never noticed before.
Linn Majik 140 - First step into serious hi-fi....
A full-range yet compact floorstanding speaker, Majik 140 will bring your music to life without dominating your room.
High frequency precision and wide dispersion are provided by the 2K Driver Array featured across the Majik range, while separate bass and mid drivers ensure musical accuracy at lower frequencies.
Majik 140 provides great value straight out of the box, as well as offering higher levels of performance through a range of upgrade options, from simple bi-wiring through to a fully Aktiv configuration within an Exakt system.
Solid aluminium upgrade stands are also available, providing greater stability and less vibration so you can enjoy better performance across the entire frequency range.
Linn Majik 109 Loudspeakers
Close your eyes when you listen to these speakers and you'll think you're listening to a floorstanding speaker.
Using technology derived from Linn's reference loudspeakers, Majik 109 delivers a toe-tapping musical performance wherever you position them; on a bookshelf, wall or on the specially designed stands.
A bass reflex port is hidden behind the 2K driver array, providing a deep and musical bass without the need for a large cabinet. The port is front-firing, which means you can position the speakers close to a wall without compromising bass extension.
Higher levels of performance can be easily achieved with a range of upgrade options, from simple bi-wiring through to a fully Aktiv configuration within an Exakt system.
Linn Series 3 Loudspeakers
Linn Series 3 Wireless Speaker
The Best Sounding Wireless Speaker in the World.
Series 3 is an all-in-one, wireless speaker that brings your music to life in incredible detail, getting you closer to the original performance than ever before.
Blending timeless elegance with precision engineering, flowing curves and natural materials have been carefully selected for their audio properties, ensuring Series 3 is a feast for the ears as well as the eyes.
Qobuz, Tidal, Spotify, Apple Music, Amazon Music, your own music collection… wherever your music comes from and for an even more immersive listening experience, add a partner Series 3 speaker to create a stereo system.
Series 3 is perfectly sized to sit either side of a TV on a media cabinet, and connected via HDMI your TV will sound even better than before.
As with all Linn DSM systems, multiple Series 3 speakers wirelessly connect around the home to play independently or together, all with the same simple control options.
And with simple plug and play setup, start listening to your favourite tracks as you've never hear them before.
Series 3 is designed to fit seamlessly anywhere in your home and provide room-filling sound, enhancing everyday life with exceptional musical clarity that will surprise and delight.
Listen to Series 3 in the kitchen diner at House of Linn.
It all becomes clear when you hear it.
Linn Custom 104C - In-wall or in-ceiling: available in round and square versions
104C provides a more compact alternative to the 106C, making it a high performance yet flexible option for walls or ceilings, available in round or square versions, it uses a sealed acoustic enclosure and so delivers consistently high performance, regardless of the wall type or size of cavity.
The 2K Driver Array produces incredible clarity at high frequencies while providing even dispersion throughout the room and like the other speakers in the Linn Sekrit range, 104C can be painted to match your wall for the ultimate hidden solution.